Average Monthly Temperatures for Each State in Fall
The map here shows how fall temperatures compare across the American states. Below the map are the data it's based on. Plus there's a ranking of states in autumn from hottest to coldest. For those who want to drill down deeper, the table also provides state-wide average temperatures for each fall month.
Autumn temperature averages range from a high of 72.7 degrees Fahrenheit (22.6 degrees Celsius) in Florida to a low of 26.7 °F (-2.9 °C) in Alaska. For the entire United States, excluding Hawaii and Alaska, the season averages 53.9 °F (12.2 °C).
The temperatures are based on data collected by weather stations throughout each state during the years 1971 to 2000 and made available by the NOAA National Climatic Data Center of the United States.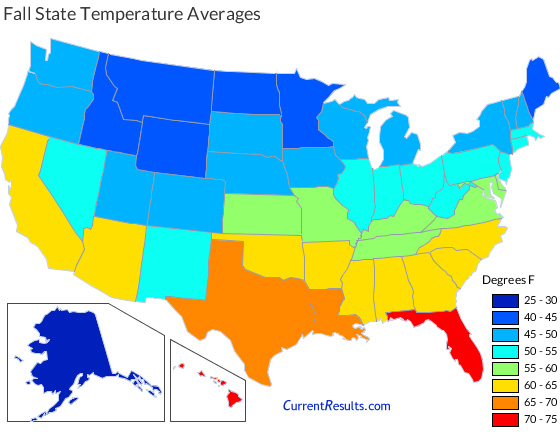 The average temperatures during fall for every state in the US are listed below in degrees Fahrenheit and Celsius. The tables provide state-wide temperatures for each fall month, September, October and November, plus an average for the entire season. The states are also ranked from the hottest state in fall at number 1 to the coldest state at number 50.
Average temperature for each state during fall.
Fall Average
Rank
State
Sep
Oct
Nov
° F
° C
°F
°F
°F
63.7
17.6
7
Alabama
74
63
54
26.7
-2.9
50
Alaska
43
26
11
61.3
16.3
10
Arizona
73
62
50
61.4
16.3
9
Arkansas
72
62
50
60.9
16.1
11
California
70
62
51
45.9
7.7
41
Colorado
58
47
34
51.2
10.7
28
Connecticut
62
51
41
57.4
14.1
15
Delaware
68
57
47
72.7
22.6
1
Florida
79
73
66
64.6
18.1
5
Georgia
74
64
56
71.8
22.1
2
Hawaii
73
72
70
44.8
7.1
44
Idaho
56
46
33
53.8
12.1
22
Illinois
66
54
42
53.8
12.1
22
Indiana
65
54
42
49.8
9.9
32
Iowa
63
51
36
55.4
13.0
20
Kansas
68
56
42
57.0
13.9
16
Kentucky
68
57
46
67.4
19.7
3
Louisiana
77
67
58
44.2
6.8
45
Maine
55
44
34
56.1
13.4
18
Maryland
67
56
46
50.3
10.2
30
Massachusetts
61
50
41
47.3
8.5
38
Michigan
59
48
36
43.5
6.4
46
Minnesota
57
45
28
64.2
17.9
6
Mississippi
75
64
54
56.0
13.3
19
Missouri
68
56
44
Fall Average
Rank
State
Sep
Oct
Nov
° F
° C
°F
°F
°F
43.0
6.1
47
Montana
55
44
30
49.5
9.7
33
Nebraska
63
51
35
50.2
10.1
31
Nevada
62
51
38
46.3
7.9
40
New Hampshire
57
46
36
54.8
12.7
21
New Jersey
66
54
45
53.8
12.1
22
New Mexico
65
54
42
48.1
8.9
37
New York
59
48
38
60.2
15.7
13
North Carolina
70
60
51
42.0
5.6
49
North Dakota
56
44
26
52.9
11.6
27
Ohio
64
53
42
60.6
15.9
12
Oklahoma
72
61
48
48.9
9.4
35
Oregon
59
49
39
50.9
10.5
29
Pennsylvania
62
50
41
53.1
11.7
26
Rhode Island
63
53
44
63.4
17.4
8
South Carolina
73
63
54
46.4
8.0
39
South Dakota
60
48
31
58.6
14.8
14
Tennessee
70
58
48
65.5
18.6
4
Texas
76
66
55
49.1
9.5
34
Utah
62
50
36
45.7
7.6
42
Vermont
57
45
35
56.5
13.6
17
Virginia
67
56
47
48.5
9.2
36
Washington
59
49
38
53.3
11.8
25
West Virginia
64
53
43
45.7
7.6
42
Wisconsin
58
47
32
42.5
5.8
48
Wyoming
55
43
29